Home
Written Poems
Dance & Poetry Videos
Interviews
Reviews
Bookstore
Flute Playing
Dance Photos
Events
Moonday
Bio
Contact Me
Contact Me on FB
Moonday on FB
Links
---
Alice's Events and Features
2021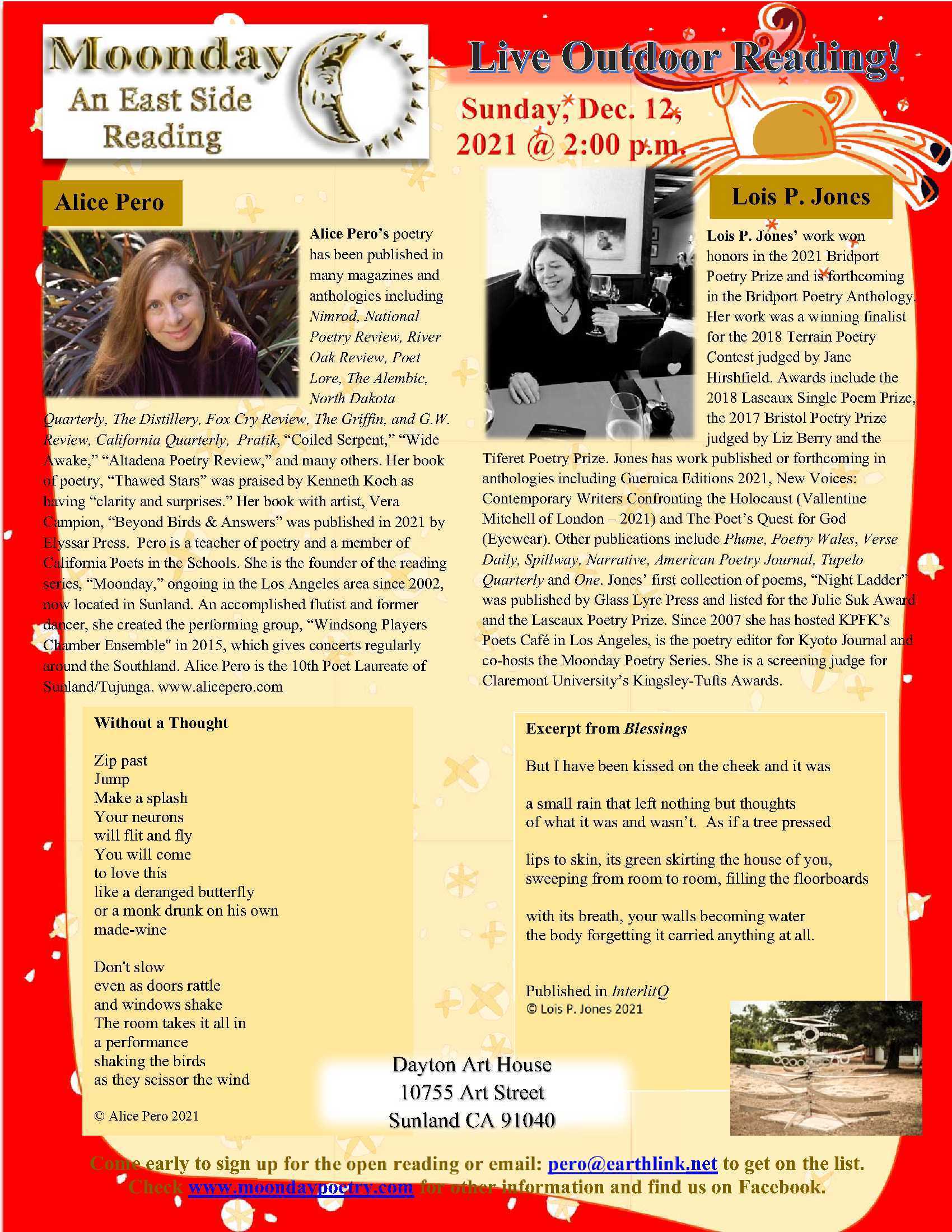 ---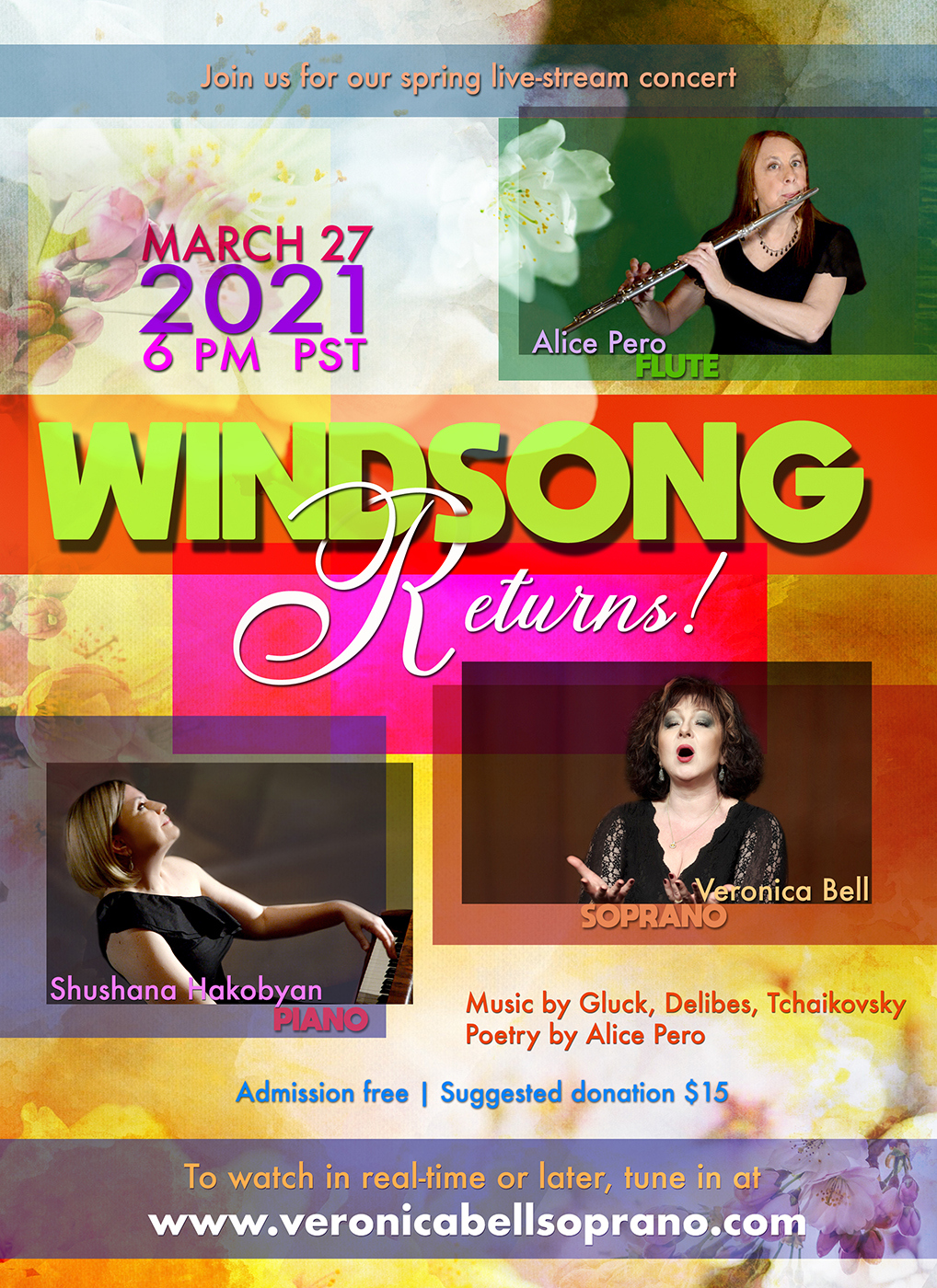 2019
---
Sat, April 6, 3 pm
Featured Reading, "Expressions.L.A."
Studio City Public Library
12511 Moorpark St, LA 91604
2018
---
Sat, June 30, 6 pm
Lyrical Flames
Jones Coffee Roasters
693 S. Raymond, Pasadena

Sun, July 8, 2 pm
Beyond Baroque Literary Arts Center
681 Venice Blvd, Venice

Sunday, Jan 7, 3:00 Windsong Players Chamber Music Ensemble presents

"Music Around the World," at the McGroarty Arts Center, Tujunga, CA

Friday, May 18, 7:00 and Saturday, May 19, 2:00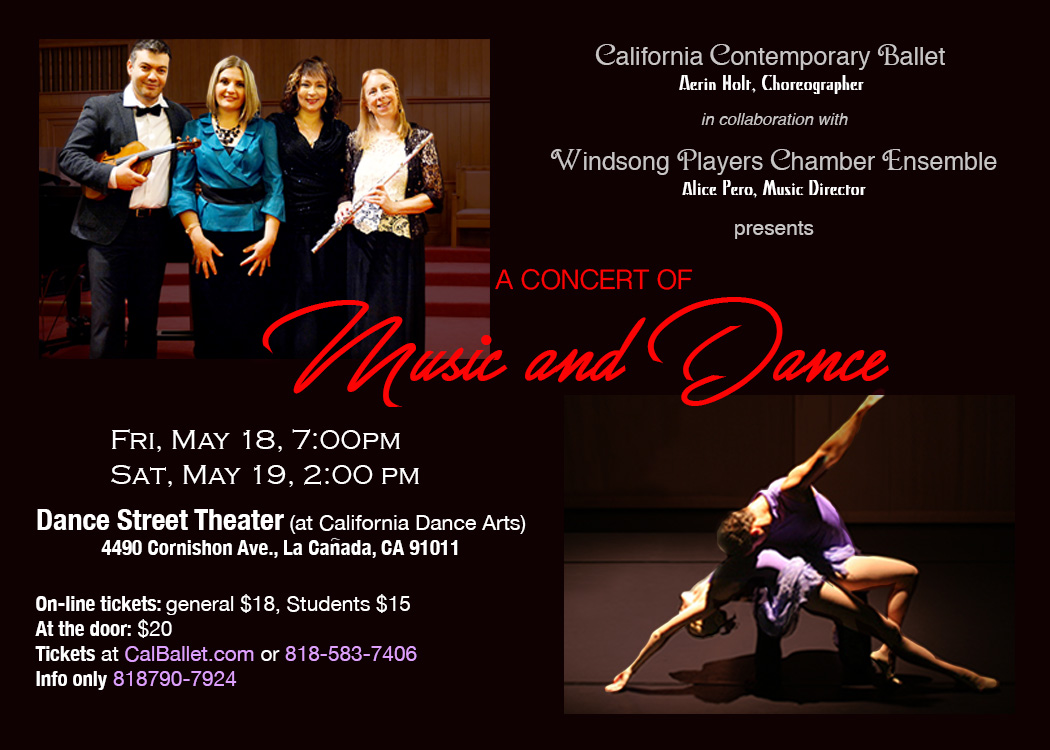 2017
---
Friday, Feb 3, 6:30 pm, Pushcart Prize Nominee Event, Poetry Feature
Altadena Library 600 East Mariposa St, Altadena, CA
Free Event
Sunday, Feb 26, 4:30 pm, Windsong Players Chamber Ensemble
All new program including World Premiere of Carol Worthey's setting
of Alice Pero's poem, "In My Perfect Landscape"
and pieces for flute, piano and violin
by Khatchaturian, Copeland, Quantz, Schubert and much more
Eagle Rock Covenant Church
1649 Yosemite Dr, Los Angeles, CA 90041
Tickets at the door: $20, $30 for two, $15 seniors

Sunday, March 26, 4:30 pm, Featured Reading and Book Release
"Sunland Park Poems," by Alice Pero & Elsa Frausto
Village Poets, Bolton Hall Museum, 10110 Commerce Avenue, Tujunga, CA 91042.
$3 donation requested


Saturday, September 10, 3 pm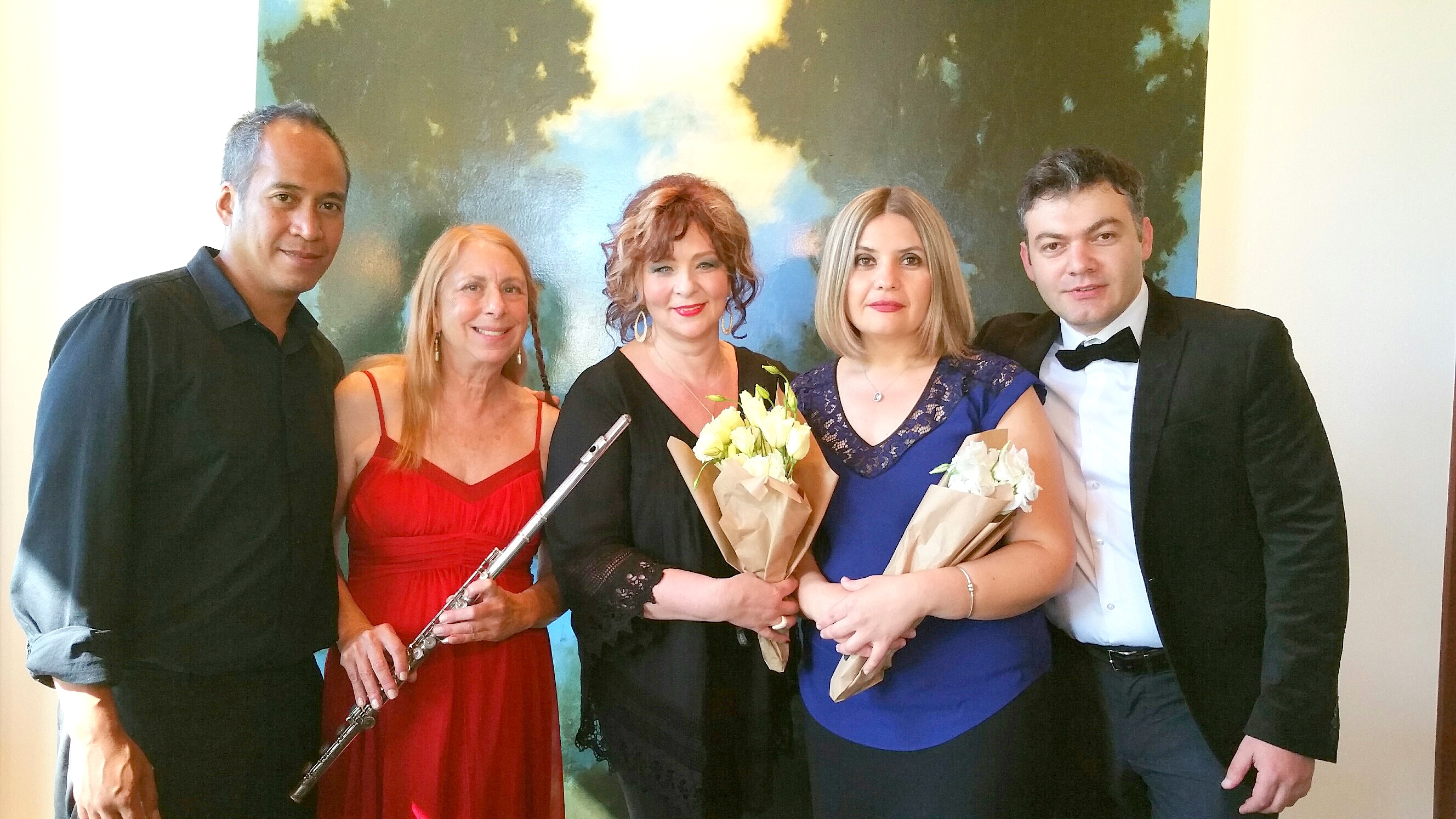 Vincent Reyes, guitar Alice Pero, flute Veronica Bell, soprano Shushan Hakobyan, piano Ruben Aghiyan, violin

Windsong Players Chamber Ensemble
"Joy of Creating" concert

Two World Premieres! "Not Tame" by Carol Worthey, words by Alice Pero, and "Fantasie" by Ruben Aghiyan
as well as works by Vivaldi, Villa Lobos, Martinu, Schocker and others

Garden Pavilion
Church of Scientology Celebrity Centre International
5930 Franklin Ave (at Bronson), Hollywood, CA 90028

Tickets at the door $20 general, $15 seniors
Free parking on premises

2016
---
Sunday, November 20, 4:30 pm: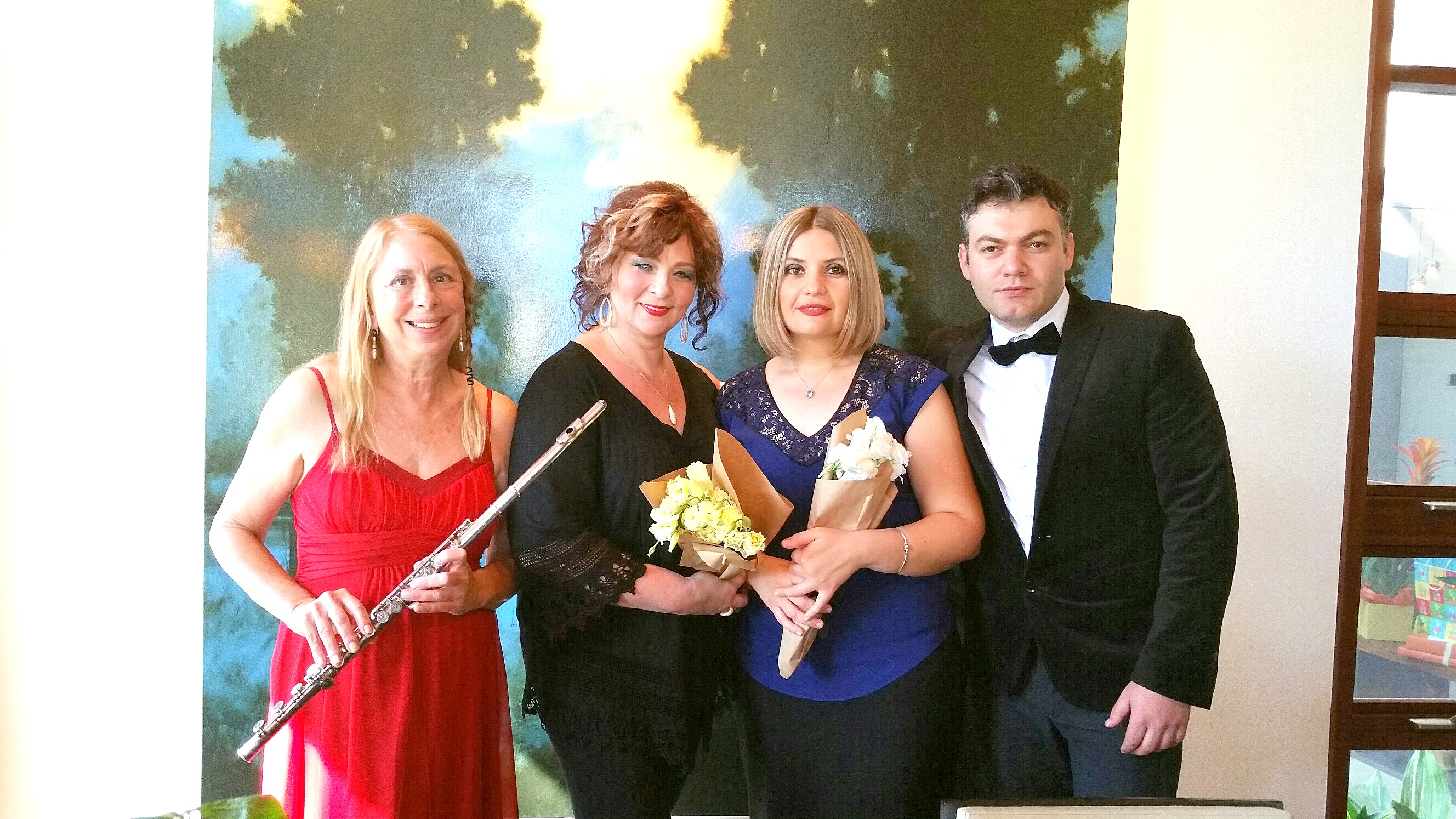 Alice Pero, flute, Veronica Bell, soprano, Shushan Hakobyan, piano, Ruben Aghiyan, violin

Windsong Players Chamber Ensemble
in concert

Telemann, Bloch, Rachmoninoff, Debussy,Khachaturian,
and others including World Premiere of Carol Worthey's
"In Awe of Rain" for flute, soprano & piano with words by Alice Pero

Eagle Rock Covenant Church
1649 Yosemite Dr, Los Angeles, CA 90041
(323) 257-6434

Tickets at the door: $20, $30 for two, $15 seniors
Sunday, April 24, 4:30 pm:
Poetry Co-feature with Lois P. Jones at "Village Poets" McGroarty Arts Center,7570 McGroarty Terrace, Tujunga, CA 91042

May 1, 2016, 2 pm:
Our newly formed Windsong 2, chamber music ensemble, will perform at Celebrity Centre in Hollywood. Alice Pero, flute , Yulia Ronskaya, soprano, Ophelia Nanagyulyan, violin, Shushan Hakobyan, piano and Vincent Reyes, guitar will play a variety of works by Arutiniunian, Saint-Saens, Mozart, Faure, Poulenc, Babjanyan and Komitas, as well as two world premieres: Carol Worthey's "I Will Build a House" and Ruben Aghiyan's "Ekspromot in B flat Minor."

Address: Garden Pavilion, Church of Scientology Celebrity Centre International,
5930 Franklin Ave (at Bronson), Hollywood, CA 90028

Tickets: $10.00 at the door
Free parking

Upcoming: Windsong 2 plays Alice's Birthday Concert, Sat, Sept 10th.
2015
---
In November 2014, Alice played "Dance of the Goat"
You can see the MP4 file by clicking below. File plays on Windows Media Player.
https://www.mediafire.com/?1rm3ug3vhromd8o
Sat, Jan 9, 2pm, I will be giving the 2nd performance of "Quatrain" for solo flute by Carol Worthey
at the National Assoc of Composers USA concert, 10701 Ranch Road, Culver City, CA 90230

Sun Jan 10, 2:30 pm, I will be playing Poulenc Sonata accompanied by Shushan
Hakobyan at the Pasadena Library Second Sunday concert. 285 E. Walnut St, Pasadena, CA 91101
Others in the concert will be: Ophelia Nanagyulyan , Ruben Aghiyan violin, Vaga Martirosyan, voice

Fri, March 13, 7 pm Poetry Feature, The Gelato Poetry Series, Korky's, 2375 San Diego Ave, San Diego, CA

Sun, March 15, 10 am, Windsong (musical ensemble) debut performance, with Toti O'Brien, soprano, Vince Reyes, guitar & TomM Hall, poet
Sepulveda Unitarian Universalist Society, 9550 Haskell Ave, North Hills, CA

Sat, April 11, 11 am & 12:30 pm Poetry in the Garden, Rancho Santa Anita Botanical Gardens, 300 N. College Ave, Claremont, CA
Sunday, June 14th, 5 pm Poetry Feature at "Second Sunday Poetry Series"
Studio Theatre at St. Denis Building, 3433 Cahuenga Blvd W, Los Angeles, CA 90068

Sunday, June 21, 2 pm, Co-host Moonday, features are: Don Campbell, Radomir Luza
& Cindy Rinne, Flintridge Bookstore, 1010 Foothill Blvd, La Canada, CA 91011

And if you are on the East Coast in July:

Wed, July 8 Poetry Workshops (for kids) sponsored by Pine Plains Library, Pine Plains, NY

Tues, July 28, 5 pm Poetry Dialogue with Dan Potter, The Dragon's Egg, 401 Shewville Road,
Ledyard, CT www.dragonseggstudio.org
Our much awaited next WINDSONG concert has been put forward into September from original August date.

Friday, Sept 25, 7 pm WINDSONG, McGroarty Art Center, 7570 McGroarty Terrace, Tujunga, CA 91042
---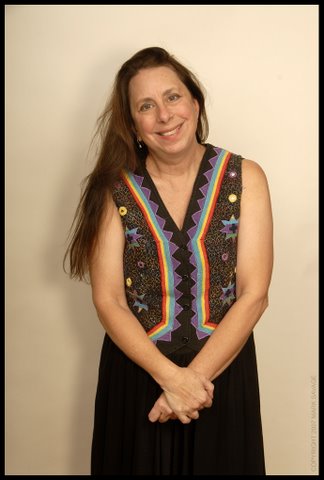 ---