Home
Written Poems
Poetry Videos
Poetry Audio
Reviews
Bookstore
Flute Playing
Dance Photos
Events
Moonday
Bio
Contact Me
Contact Me on FB
Moonday on FB
Links
Bio
I was bor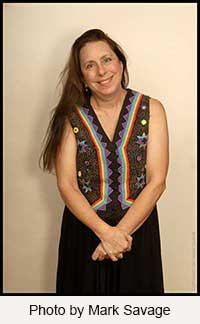 n in New York City, the child of an electrical engineer and a housewife/editor. I graduated from The Putney School in Vermont and The Manhattan School of Music in New York City. I received dance training at the Martha Graham School in New York and studied flute with Harold Bennett. I discovered poetry after studying rhythm with the music educator, Jamie Faunt, also having been inspired by training in the applied religious philosophy, Scientology. I have been writing poetry seriously since 1982 and have done many featured readings in New York and Los Angeles and been widely published in small magazines and on the web. My first book of poetry, Thawed Stars, was published in 1999 and was praised by Kenneth Koch as having "clarity and surprises." I am a member of the California Poets in the Schools, and was a workshop leader for the New York City Ballet Education Department Poetry Project for many years. I have written over 20 dialogues with other poets.

In 2002 I created a reading series in Los Angeles, Moonday, which has had venues on both sides of town and is now held five times a year at Flintridge Bookstore in La Cañada. www.moondaypoetry.com

Returning to flute playing in 2006, I have been concertizing, including giving a house concert benefit for the LA Philharmonic, a recital at the Mid-Week Recital Series at the First Methodist Church of Santa Monica, several solo performances with the California Theatrical Youth Ballet, the Beverly Hills Chamber Music Festival, Celebrity Centre in Hollywood and many private concerts.

In 2015 I founded the chamber music group, Windsong Players Chamber Ensemble, which gives concerts around the Los Angeles area. Look for Windsong Players Chamber Ensemble on You Tube.

I continue to teach poetry to children and currently work with elementary school students at Delphi Academy of Los Angeles. I also enjoy tutoring children in reading as well as helping those for whom English is a second language.